A world of steel
It is three thousand years old, but is one of the most innovative material: three out of four of the 3,500 available types just did not exist only 20 years ago. It is everywhere around us because is the world's most unexpensive and most important material, without which the Industrial Revolution just couldn't have happened.
It is resistant and durable, with an average life of 40 years. It is 100% recyclable and does not lose its qualities when re-used. Steel, an alloy made up of iron with a percent of carbon up to same 2% and other materials, permeates the world we are living in: it is used through the entire manufacturing industry, from surgery scalpels up to trains and ships, from house appliances to packaging, from buildings to cars and bridges.
Steel production processes are basically two: integral cycle or blast furnace (primary steel) and electric furnace. In the first case, the raw material is the iron ore, but up to 30% of steel wreck can be used. From the steel produced with this mode, are obtained mainly flat semi-finished products: rolled coil used for the production of trains, vehicles, ships, house appliances, packaging and pipes.
In the second case, the raw material is 100% made of wreck and the resulting are mainly long semi-finished products: rails, pipes, beams and bars for the construction industry.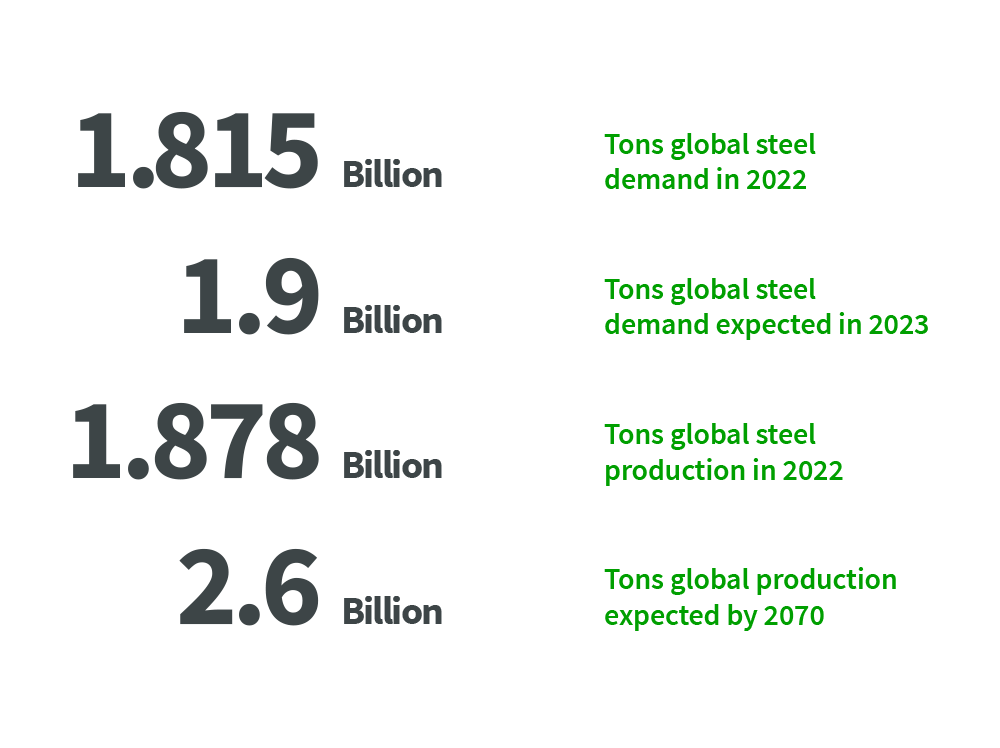 In 2020, global steel demand was 1.725 billion tons, of which more than half from China alone (980.1 million tons), and in the current year according to the World Steel Association estimates, should be close to 1.8 billion tons.
In 2019 the global production was 1.869 billion tons and is expected to grow up to 2.6 billion tons by 2070.
Its endless recyclability, that leaves its characteristics intact, makes steel the pivot of the future circular economy. Always according to the World Steel Association, the steel sustainability model is based upon the so called 4Rs: Reducing, Reusing, Recycling and Restoring material.
The steel market in Italy
Italian primary steel production in 2019 was equal to 23.2 million tons, with a domestic demand of 29 million tons, matched mainly thanks to the reusing of wreck, that yet offer a lower quality steel, not usable in all industry segments.
The gap between demand and offer is wider than all other European countries. That is why is needed to increase more steel from integral cycle, in order to satisfy the national demand from the diverse industrial sectors, a fact that forces Italy to import every year huge quantities, namely from Turkey, France, Germany, India and South Korea, and to avoid that the national steel industries continue to suffer capacity losses, as already happened with the electric engines electromagnetic steel plate or the steel cord.
Total steel production, both primary and recycled, that in 2020 was slightly more than 20 million tons, (source: Federacciai), is penalized by two factors compared to foreign competitors: higher labor and energy costs.
Herewith the necessity to a new plan aimed at protecting the sector, starting from the revamping of the Taranto plant, the capacity of which is now limited to some 10 million tons per year in the integral cycle. That would produce benefits in terms of contained prices and of more certainty of the supply to the national sector of automotive, home appliances and shipbuilding.
Support to the production of plates and rails is also a strategic necessity, in order for example to fully exploit 28 billion euros made disposable by the Recovery plan for motorways and high-speed railways. In fact, steel represents some 20-25% of the total capital expenditure for the high-speed trains.